Discount Hot Tub Filters in Canada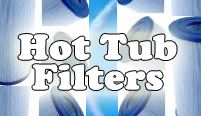 Hot Tub Filters Canada
Need a quality filter for your hot tub in Canada? We've got the best deal on both quality name brand cartridge filters and generic OEM filters to save you even more time and money!
SpaFilters.ca will help you find the right filter for your spa fast. We give you the option of ordering name brand filters or discounted OEM filters for your hot tub.
Spa Fragrance Bundle
Caring for Hot Tub Water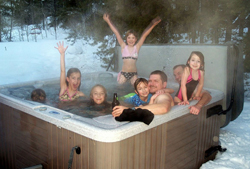 Caring for your filter can help keep your hot tub water sparkling clean. Keep the hot tub safe for the whole family to enjoy!
Find out more about hot tub water care, accessories or to find your particular replacement hot tub filter.
Take the time you saved driving around to different stores and relax in your spa or pool instead. Let Canada Post or UPS bring you whatever you need to continue enjoying yourself at home.
Hot Tub Filters

Replacing a hot tub filter is easy and should be done once a year. If you know your filter's model type (as found on the filter end cap), simply enter it in the search box at the top of the page to find a suitable replacement cartridge.
If you don't know your filter model or type, start by finding a filter by measurements . Measure length, outer diameter and inner diameter if there is a centre hole.
Need help measuring your spa filter? See the video.
Spa Filters by Hot Tub Brand
You can also try to find your filter by hot tub brand, though you will still need to measure your filter to make sure you get the right replacement size.
Hot tub manufacturers such as Beachcomber, Sundance, Jacuzzi, Caldera and QCA Spas don't actually make the spa filters, but buy them from third party suppliers, so you can source these parts online too at discount prices. Get free shipping on some bulk filter orders as well.
Finding the filter in your spa is easy too, simply turn off the power and open the filter lid or cover if there is one. Be sure not to run the pump when there is no filter in the spa or when replacing the filter.
Many replacement filters cartridges use quality Reemay filter media and others use Point Bonded media. We access a huge supply of in-stock spa filters as well as accessories, parts and supplies online.
Threaded vs. Non-Threaded Hot Tub Filters
Most spa filters just have a centre hole going through the middle and are easy to measure and source. If your filter has a threaded connector at the bottom, then be sure to find the correct filter size and threaded bottom. These type usually have a top handle so that you can un-thread the filter when removing it by rotating it counterclockwise. Filters with just a centre hole are simply lifted straight up and out of the filter canister.
Male threaded connectors are either MPT (male pipe thread) which are Fine and have closely spaced threads, or SAE type which are a more coarse type thread that has wider spacing between threads.
Filters Filters Filters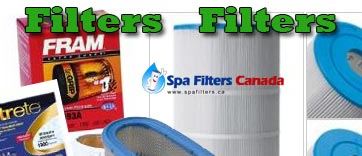 We actually need many filters for our homes besides hot tub and pool filters. Check out some of the other needed filters for the Canadian home.
More Filters – Refrigerator Filters
Replace the water filter for your refrigerator in Canada every 6 months or as needed. See our listings and reviews on
refrigerator filters
. Stock up on fridge filters as they don't last very long in an active household.
More Filters: Coffee Filters Keurig
Keurig reusable filters
and other coffee filters are available online at deeply discounted prices.
There are also single coffee packs, flavouring and complete coffee machines. See our coffee filter section for details.