Keeping your spa filter clean means better hot tub performance and cost savings.
Why are there cost savings? Because maintaining your hot tub water will prevent early wear of pump seals, pump union o-rings and other hot tub components that can become damaged due to poor water quality.  A pump may need to work harder to pull water through a dirty filter also causing excessive wear on the pump.
Easy filter cleaning and replacement schedule: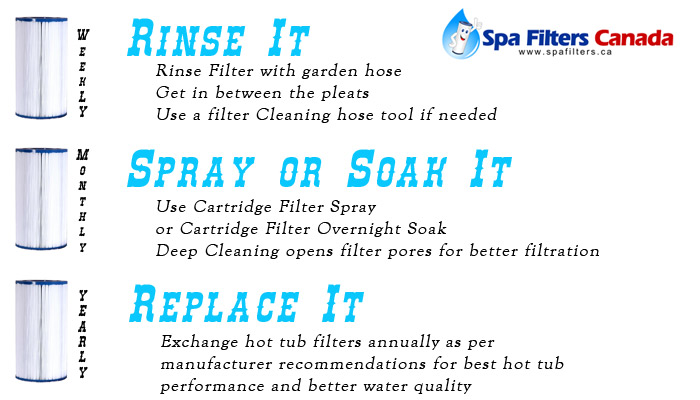 Cleaning a filter is a simple as regularly washing off the filter media pleats.  Using a garden hose or a cartridge filter cleaning device, rinse the filter for several minutes and replace.
Filters should be replaced with new spa filters every year or so depending on hot tub use for optimum performance.  Buy filters in bulk and save.
Consider generic filters instead of brand name filters to save even more.  Many generic filter types use similar if not superior filter media but do not require the marketing budget that larger brand names need.  You may rely on brands such as Pleatco, Filbur or Unicel and will certainly get a good filter, but you may also save a bundle with quality generic filter brand.
How to Clean a Hot Tub Filter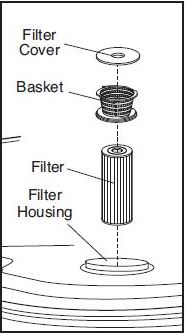 The filter should be checked and cleaned regularly to remove build-up of oils and dirt.  Outdoor spas may also have leaves and debris in the filter pleats.
Turn off power to spa before removing filter. 
Remove Filter Cover
Lift out the filter basket, if any
Remove and rinse the filter with a garden hose.  Use a filter cleaner if the filter is still dirty.
Insert the cleaned filter back into the spa, replace the filter basket if any.
Turn spa back on and enjoy your hot tub
Hot Tub Filter Cleaner
 Keep your filters clean with an overnight filter soak solution.
In addition to rinsing off the filter paper, you can also use a filter spray or overnight filter soak to eat away at the filter pores and unclog them. A very thorough way of deep cleaning hot tub filters is to use an overnight filter cleaning solution to let your spa filter soak overnight in a bucket of this solution and the filter pores will be nice and clean in the morning.
For this reason it is a good idea to have at least 2 filters so you can rotate them.
There are several other ways people are cleaning spa filters including bleach, the dishwasher, muriatic acid baths, filter cleaning devices and attachments and more. Read more about how others are cleaning spa filters to learn about the do's and don'ts of spa filter cleaning.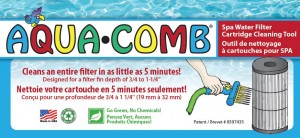 The new Aqua Comb gets in between filter pleats to remove those stubborn contaminants and extend filter life. Great for both pool and spa cartridge filters.
The garden hose attachment features 9 pics that help dislodge and remove sand, debris, bugs and other filter contaminants.
Read more about Aqua Comb here.
Get Gunk and Bacteria Out of Hot Tub Plumbing Lines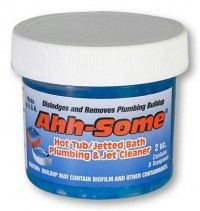 A new product called Ahh Some helps keep plumbing lines clean too.  This product works in jetted bath tubs and also in hot tubs.  Simply add a tablespoon of Ahh Some to your hot tub water before a scheduled water change and let the product do its magic.  Try this product and help make sure not only your spa shell is clean, but also the spa plumbing that you can't see.  Read more about Ahh-Some hot tub cleaner on our blog.