Find filters fast for your hot tub. 
Enter Filter Model Number in the Search Box at the top right of this page.
Want Brand Name Filters:
Visit the Pleatco Filter Canada store for both Pleatco and other brand replacement filters.
See our other filters for comparable brands.
Search by Filter Model Number
Type in the Pleatco, Unicel, Filbur, or other filter brand part number (which you can find on one of the end caps of the existing filter) into the search box above to find your filter based on the reference number/model number of the filter.  Don't know the model number?  Find out by measuring the filter and comparing the dimensions to our Filter Chart to Find Filter Brand by Dimensions.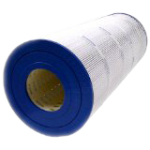 Search by Filter Dimensions
It is usually best to measure your existing filter in order to assure that you are getting the correct replacement spa filter as sometimes filter models change within the same hot tub model.
Alternatively you can find the filter cross reference model stamped on many end caps of filters. Having this reference number will help you find the exact replacement for that model filter. See Filter Chart to Find Filter Brand by Dimensions.
Find Spa Filters in Canada by Hot Tub Brand
Finally, you can try to find the filter by hot tub brand, but this is the least reliable because sometimes there is more than one filter that was used over the years in a given hot tub model.
When in doubt, it is best to measure your existing cartridge filter.
To measure your filter, measure the length, diameter (outer diameter) and inner diameter of the core too.
Finally determine the square footage of filter media (paper) you want.  For example, sometimes you can select between a 25 square foot and 50 square foot filter cartridge with the same exact dimensions, but the 50 sq. ft. filter will have twice as much filter paper referred to as filter media.  Having more media means better filtration.
Why Clean the Filter?
Not only because it says so in the manual that came with the spa, but because it makes for cleaner, safer water and also does not stress the pump and equipment by making the pump work harder to push the water through a clogged filter.   Learn more about why to clean your spa filter to maintain clear water.
Still not sure what filter you need?  Email us at info@spafilters.ca .