Refrigerator Water Filters Canada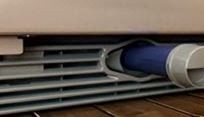 Fridge filters keep the water dispenser in our refrigerator giving us clean, drinkable water.  When a fridge filter is depleted, then there is no more filtration and it is like drinking straight out of the tap.  Some communities are ok with the tap water, but there is a residual taste in normal tap water that the filter gets rid of. 
Find a replacement Whirlpool water filter here. Refrigerator Filter Replacement


Exchanging the refrigerator filter regularly will insure that the dispensed water and ice is as clean and fresh tasting as possible.
Kenmore, Whirlpool, KitchenAid, Maytag, Amana, and JennAir side-by-side refrigerators usually have the filter access at the bottom of the front grille.
A brand name cartridge will be NSF-certified and reduce cysts, particulates (class I), lead, mercury, and other unwanted substances in the water. Better tasting water is the result.
Replace as needed or every 6 months to ensure clean, safe drinking water and ice.
Many times there is a warning indicator light that comes on when the filter is low. Some fridges show the remaining percentage of filtration capacity as well. Once it is time to swap out the filter, simply buy the same filter type and then twist out the old filter and install the new one.
To Replace The Water Filter
For side-by-side refrigerators with filter access in the base grille, follow these instructions for replacing your filter:
Push the eject button, then pull the filter cap. Do not twist cap.
Remove the filter cap by turning it counter clockwise. Set aside cap. Discard old filter.
Remove the packaging and O-ring covers from the new filter.
Align arrows on the cap and new filter. Turn clockwise to snap in place.
Push filter into the base grill until the eject button pops. Gently tug on cap to ensure it is snug.
Flush the water system until a total of 3 gallons (12 L) has been dispensed.