Get pool filters online and save time and money.  Pools use a wide variety of filters. Some use cartridge filters similar to those found in hot tubs, while others use sand filters or other filtration types.
Swimming pool filters can ship anywhere in Canada.  Even the larger sand filters can be shipped.  Pool cartridge filters will keep your swimming pool water clean.
See the current online listings, deals and reviews for Pool Filters Canada
 to find the lowest prices on cartridge filters shipped anywhere in Canada.
Most Popular Above Ground Pool Filters in Canada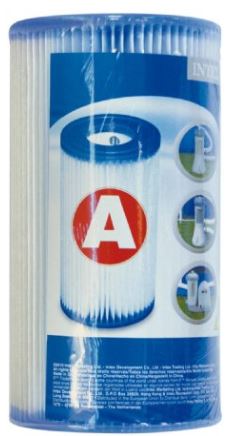 1.) Intext Type A Filter Cartridge Dacron filter material works for 2 weeks. Size: 4 1/4″ x 8″ fits filter pumps  58603, 58604, 56637, 56638, 56635 and 56636.
Read more about Type A above ground pool filter cartridges or buy Intex Type-A Filter Cartridge
 at discount prices.
Need an Intex Type B filter? Look no further than here: Intex 59905E Type B Pool Filter Cartridge
2) Unicel C-9650 pool filter cartridge replacements are another popular swimming pool cartridge filter.
3) Unicel C-7487 pool cartridge is also very popular.
The different types of filtration used for both above ground pools and in-ground swimming pools includes cartridge filters, D.E. filters and sand filters. 
Cartridge filters are very economical and disposable.  They can also be cleaned regularly and pores can be unclogged by a filter spray or overnight cleaning solution.
Popular swimming pool cartridge filter types include the Unicel C-4326, C-4995 and Filbur FC-3320 type.
Need the whole pool filter canister? This one comes complete with the cartridge inside.  Read the review of C500 Hayward Star-Clear 50 square foot cartridge pool filter here.
DE filters or Diatomaceous Earth Filters seems to require the most maintenance, but also does a supreme job of keeping pool water filtered.  This fossilized earth coats grids within the filter housing to provide for filtration of particles as small as 5 microns in diameter or smaller.   This type of filter also requires backwashing just like the more abundant sand filter.  DE earth or powder needs to be added here and there to keep the filter grids coated.  DE filters do run at a higher pressure than cartridge filters, which are the most economical filtration for pools. 
Sand Filters for Swimming Pools
Just like water in a river that gets cleaned by moving over a bed of rocks, the sand filter allows water to flow through tubes inside the filter that come in contact with the filter sand.  Over time, pressure increases in the sand filter as more particles become trapped in the sand.  A backwash is then done to run the filter in reverse so the waste water can flow out of the system. There is then a rinse mode that allows the sand to settle again and resume normal filtration function. 
Sand filters for pools are very common in larger pools.
22″ Sand Filter System with 1-1/2 HP Pump for Above Ground Pools
Corrosion-proof sand filters may be made of durable polyethylene.  The filter pump will determine the performance.   They have a multi-port valve to allow for routing the water to either the pool or to backwash the filter.  Quiet filter pump operation will mean less noise outside your bedroom window!  Many pool owners install their pool equipment away from the house or in a pool shed.
In the winter, here in Canada, it is important to winterize your pool to avoid costly damage once the season is over.  Enjoy your swimming pool!