QCA Spas Filters Canada – Home Depot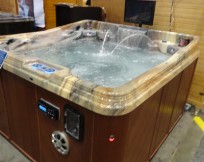 Find filters for your QCA Spas hot tub in Canada online at Spa Filters Canada.
We are the QCA Spas experts for Canada that can help you find any filter, cover or part you require for your QCA Spa that you purchased online, through a dealer or even through the Home Depot Canada.
C-4310 Dream Star filters also fit the Capri spa model.
25 sq. ft. filter compatible with PRB25-IN, C-4326 and FC-2375 measuring 13 5/16″ long x 5″ diameter with top and bottom holes at 2 1/8″ inner diameter. C-4326 type filters retrofit QCA Spas models Mystic, Serenity and Dream Master filters
45 sq. ft. filter compatible with C-5345, M-5345,PBLS50, FC-2970 measuring 10 1/8″ long x 5 5/16″ diameter with top and bottom hole inner diameter 2 1/8″.|
This filter is found in QCA Spas Home Depot hot tub models:  Malta, Riviera, Barcelona, XL-100, XL-400, Cypress, Crete, Palermo / Palmero, Salerno, and Corsica spas. Also fits Aquarius, North Star, Orion and Leo models. Also compatible with OEM filter part number 25351-800-000.
50 sq. ft. filter replaces PRB50-IN, C-4950 and FC-2390 measuring 13 5/16″ long x 5″ outer diameter with 2 1/8″ center holes top and bottom. This is compatible with C-4950 GT305, Performance and Jewel Series spa filters. This is a 50 sq. ft. filter that is very popular on many QCA Spas models including Seville, Gibraltar, Monte Carlo, Cantania, Valletta, Naples and Athens Spa Models sold through Home Depot Canada.
100 sq. ft. filter C-5397 type filters are also available that fit certain model QCA Spas. (17 3/4″  L x 5 1/4″ W)
The Pleatco brand version of the 100 sq. ft. QCA Spa filter is available online here:
Pleatco filter cartridge for hot tubs & spas PLBS100 replaces FILBUR FC-2972 UNICEL C-5397
  current price lowered to about $35.27. See price at this link.
More QCA Spa Filter Types:
35 sq. ft. filter PRB35‐IN, C‐4335, FC‐2385 measuring 9 1/4″ long x 5″ in diameter and center hole top and bottom measuring 2 1/8″ inner diameter. The C-4335 is found on the Cozumel Ultra model
C-6310 type is found on the Paradise Supreme and older Moonstone models.

 Need QCA Spa filters in the U.S.?  We ship right from Iowa to the lower 48 states.  Just email us (info@spafilters.ca) the type of filter you need and will send you factory original filters at the best discounted price online (4-packs only) with FREE shipping. Ordering information for factory direct filters from QCA Spas at the best prices will be included in the return email. This offer is only for residents of the U.S. 
Need hot tub supplies or even a Stargazer QCA Spa hot tub in the U.S.?  Visit www.HotTubOutpost.com