C-4335 PRB35-IN FC-2385 Spa Filter Canada M40353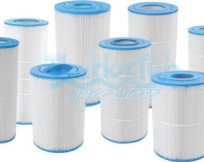 35 sq. ft. Master Deluxe replacement spa cartridge filter model M40353 replaces the following hot tub filter models in Canada:
Unicel C-4335
Pleatco PRB35-IN
Filbur FC-2385
QCA Spas 25393-000-000
Master Deluxe M40353  – find this C-4335 replacement spa filter online for as low as CA$

23.69

ea. or even lower in 4-packs.
Get the Pleatco brand version of this filter in Canada here: Pleatco PRB35-IN Replacement Cartridge for Dynamic Series IV – DFM, DFML, Waterway 35, In-Line, 1 Cartridge
Spa filter dimensions:
Diameter: 5.0″  (some measure this as 4 15/16″)
Length: 9 1/4″
Top Hole: 2 1/8″
Bottom Hole: 2 1/8″

This Master Deluxe spa filter model M40353 is made from quality Reemay brand filter fabric.  This also replaces Dynamic Series IV-DFM,DFML,Waterway 35 and other similar in-line type filter cartridges.
Whatever the cartridge filter you need, Spa Filters Canada will help you find it.  Don't see the filter you need here? Just email us a picture of your current filter along with measurements.  Take a picture of the bottom too so we can see if it has threads.