C-4335 PRB35-IN FC-2385 Spa Filter Canada M40353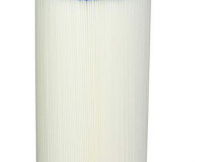 35 sq. ft. PRB35-IN replacement spa cartridge filter replaces the following hot tub filter models in Canada:
Unicel C-4335
Pleatco PRB35-IN
Filbur FC-2385
QCA Spas 25393-000-000
M40353
Find this filter type in Canada here: C-4335 
Spa filter dimensions:
Diameter: 5.0″  (some measure this as 4 15/16″)
Length: 9 1/4″
Top Hole: 2 1/8″
Bottom Hole: 2 1/8″

This replacement spa filter is made from quality brand filter fabric.  This also replaces Dynamic Series IV-DFM,DFML,Waterway 35 and other similar in-line type filter cartridges.
Spa filter
Replacement filter for pool and spa cleaning systems

50 Percent open ABS free flow cores maximize water flow through REEMAY filter media

End caps resist chlorine degradation and provide support to filter material for a longer life span

9-1/4-by-2-1/8-by-2-1/8-inches
Whatever the cartridge filter you need, Spa Filters Canada will help you find it.  Don't see the filter you need here? Just email us a picture of your current filter along with measurements.  Take a picture of the bottom too so we can see if it has threads.