QCA Spas Daytona hot tub models are found at The Home Depot in Canada as well as through online retailers.  The cartridge filter for this spa should be replaced every year.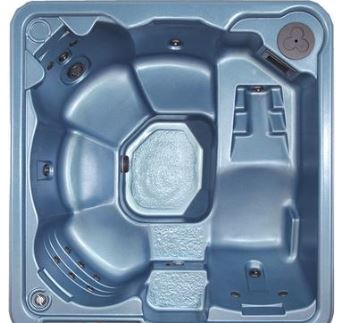 The Daytona is a lounger spa with 30 jets and the filter is located in the filter compartment near the foot of the lounger.  A black filter lid which doubles as a drink holder provides access to the vertically installed cartridge filter.  A handy built-in chemical feeder is located inside the filter for a compact sanitizing solution. 
The filter used in the Daytona model is a 50 square foot filter (box style) that measures 13 5/16″ x 4 5/16″ in diameter with a center hole which is 2 1/8″ inner diameter.  The center hole is where the chemical dispenser is located for handy sanitizer dosing of chlorine or bromine tablets.
This spa model comes outfitted as ozone ready and if an ozonator is not factory installed, it can be retrofitted at any time to help cut down on sanitizer tablets. 
The Daytona has plenty of power with a 4HP pump and a 4kw heater.  Clean your Daytona spa filter every 2 weeks with a garden hose and deep clean it with either a filter spray or overnight filter cleaner every 6 weeks or so. Replace the cartridge every year.
Enjoy your Daytona spa model built in Iowa, U.S.A.
A way to save even more energy when using this model is to buy an upgraded hard cover.  For the Canadian winters, you may consider a 5″ thick cover the next time a cover replacement is needed.  The factory cover should last 5-7 years so not much to worry about for now.
 Enjoy your QCA Spa hot tub from Home Depot Canada.  If you need factory direct accessories not available from your retailer, check out www.HotTubOutpost.com.