Pleatco hot tub filters for spas in Canada.  Pleatco spa filters brand is one of the most popular brand names of hot tub filters in Canada. They are also widely referenced for similar and replacement spa filters to help with filter sizing and finding the correct type of replacement filter.
Hot tub manufacturers do not actually make the filters, they buy them from spa filter manufacturers and OEMs.  This means that you can comfortably replace any brand spa filter with a different brand as long as the size and features of the filter are the same. This means if the filter has a threaded connector on the bottom part, then the same type of thread needs to be sourced on a replacement filter, even when it is a different brand. 
For instance Pleatco filters are interchangable with Waterway, Master Deluxe, Filbur and other brands.
Pleatco Hot Tub Filters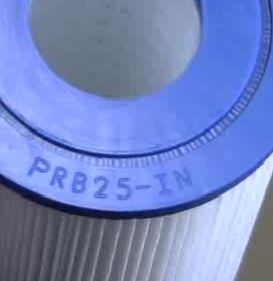 Pleatco is one of a few popular filter brands that have been around for quite awhile.  They are leaders in pool and spa filtration and are also promoting the filter flosser device that attaches to any garden hose to provide 50% more filter cleaning surface area. That means less time, less waste, and less water when cleaning off cartridge filters.  (You do clean your spa filter, don't you?).  Cartridge filters are easy to clean, just rinse them off with the hose (and the Filter Flosser attachment) and replace in the spa.  Once in awhile, you can use a spray on filter cleaner to eat away at pores that may be full of oils, lotions and other filter-clogging additives.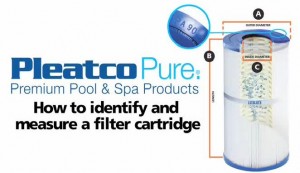 The end cap of the filter may reveal the filter model number.  Knowing this will make it easier to find a Pleatco or other brand replacement filter.   For instance, in the image on the right, the Pleatco filter model number is PRB25-IN.  You can use that number to order a replacement Pleatco brand filter or to cross reference it to other filter models and brands similar to the way you shop for windshield wiper replacement blades!
Alternatively, you can measure the filter to be sure you get the correct replacement.  Just get a long ruler or tape measure and first measure the length, then the outer diameter and then the inner hole diameter.
Find original Pleatco brand filters for pools and spas online such as the PA100.  We also offer the PA131 filters in 4-pack money saving quantities.  Other pool filters include PJAN115.
Don't see a model number on your filter, find it with our Find Spa Filter by Dimensions chart.
Exchange your spa filter every year for peak performance!
Can't find your Pleatco brand filter here?  Check out these Pleatco Spa Filters