Pleatco PJAN 115 Filters for Jandy CL460 – 4 Pack
Get a 4-pack of Pleatco brand PJAN115 pool and spa filters in Canada.  These are great replacement cartridges for the Jandy Industries CL460 and other in-line cartridge filter canisters.
Pleatco brand filters use antimicrobial end caps that are resistant to chemical breakdown, and also strong banding around the pleats.  They are Made in the USA and feature a 50% open ABS free flow core.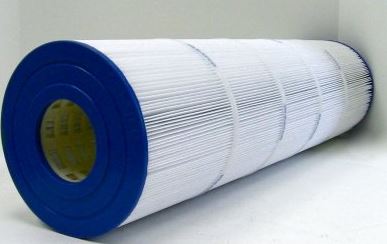 This is for the 4-pack of PJAN115 filters and includes 4 single filters for one price.
115 square ft. filter
Filter length:  26 15/16″ long
Filter diameter: 7 1/8″ outer diameter
Top and bottom hole inner diameter:  3″
If you need this filter, email us at info@spafilters.ca for current availability and price.
These filters are used in swimming pools and also in some spa applications.  When using this filter in a pool setting, be sure to clean the cartridge if the filter canister pressure goes high.  To clean the filter, remove it from the filter housing following the manufacturer's directions of the equipment you are using.  Spray off the filter pleats with a garden hose or dedicated filter wand.  Be sure to get in between the pleats.  If the filter pores are clogged, you may want to use either a spray-on filter cleaner or overnight filter bath to loosen up the pores and return the filter to maximum filtering ability.
Unicel reference equivalent: C-7468
Filbur reference FC-0810
This is for the Pleatco brand filter.