Hayward Spa Cartridge Filters Canada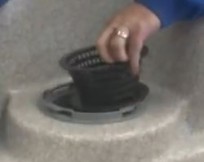 Some popular Hayward compatible cartridge filters in Canada include:
Hayward makes products for both swimming pools and spas.  Even for some pools, cartridge filters are easier to maintain than sand filters since they have a greater surface area than sand and there are fewer clogs.  Cartridge filters run at lower pressure than sand filters so there is less pressure on the pump (unless the cartridge is dirty and blocked).
So it is important to regularly hose off the cartridge filter and replace it annually in a typical hot tub installation.