C-7626 PA25-4 FC-1230 Spa Filter Canada M70251

25 sq. ft. Master Deluxe replacement spa cartridge filter model M70251 replaces the following hot tub filter models in Canada:
Unicel C-7626
Pleatco PA25-4
Filbur FC-1230
Master Deluxe M70251  – find this C-7626 replacement spa filter online for as low as CA$

35.17

ea. or even lower in 4-packs.
Spa filter dimensions:
Diameter: 7.0″
Length: 9 11/16″
Top Hole: 3.0″
Bottom Hole: 3.0″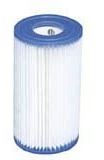 This Master Deluxe spa filter model M70251 is made from quality Reemay brand filter fabric. 
Compare this to the Pleatco PA25-4 brand replacement cartridge filter sold on Amazon:
Pleatco PA25-4 Replacement Cartridge for Hayward, Star-Clear C-250, 1 Cartridge
The Pleatco version also uses Reemay filter media like the Master Deluxe model does. The Pleatco filter costs more than the above Master Deluxe model, and offers a 50 percent open ABS free flow core as well as antimicrobial end caps.  Typically if you are going to change your filter annually, the end caps will be just fine after a year. 
Filter problems can be caused by out-of-balance water, so be sure to keep your pH between 7.2-7.6 and test regularly to enjoy long-lasting, pure and clean hot tub water.  Either filter will do the job and you can select whichever one meets your needs.