C-7656 PA50 FC-1240 Spa Filter Canada M70508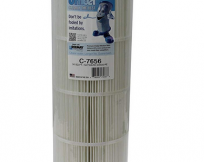 50 sq. ft. Unicel C-7656 replacement spa cartridge filter replaces the following hot tub filter models in Canada:
Unicel C-7656
Pleatco PA50
Filbur FC-1240
M70508
Find this filter type in Canada here: C-7656
Spa filter dimensions:
Diameter: 7.0″
Length: 19 3/46″
Top Hole: 3.0″
Bottom Hole: 3.0″

This spa filter is made from quality Reemay brand filter fabric. 
Note that this filter has a larger 3″ center hole than most standard cartridges that use a 2 1/8″ center hole size.
Diameter: 7 ; length: 19 5/8

Top end cap: open with molded gasket, 3 0/0″ inner diameter; bottom end cap: open with molded gasket, 3 0/0″ inner diameter

Pleat count: 108; filter media: 4 oz Reemay 2040; filter area: 50 sq. ft.

Get more efficient filtration and better water clarity with Unicel filters

Longer time between cleanings; meets oem specifications