Dimension One Spa Filters Canada
Get replacement cartridge filters for your Dimension One Interlude, Dream, Wayfarer or other spa model in Canada.
Popular Dimension One Replacement Filters Include:
50 sq. ft. filter  C-9405 replaces PAP50-4, C-9405, FC-0684 and measures 8 5/8″ long with 10″ width and 6″ top and bottom center hole diameter.
50 sq. ft. filter 4ch-50 replaces PTL50P-4, 4CH-50, FC-0151 and measures 14 3/4″ long x 4 3/4″ diameter with top handle and bottom threaded connector 1 1/2″ MPT.
75 sq. ft. filter Filbur FC-3059 replaces Unicel C-7367 and Pleatco pdo75-2000. Dimension One filter 1561-00 compatible.  Filbur filters use quality Reemay filter media.
 35 sq. ft. filter Filbur FC-3058 replaces Unicel C-7335. This is a Filbur brand filter for Dimension One SpaBerry.
This filter also available in a money-saving 4-pack or 6-pack. The 6-pack includes free shipping anywhere in Canada.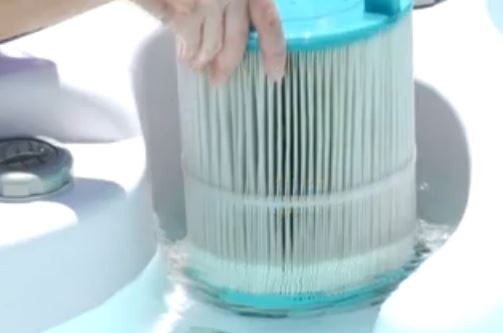 Filter Change for Dimension One
Rinsing, cleaning and changing the Dimension One spa filter is easy.  D1 control panels may show a message to Rinse filters or Remove filters and rinse with hose.  D1 says to rinse one month and give them a thorough cleaning the next month.  Other hot tub manufacturers recommend cleaning the filter every 2 weeks and deep cleaning once a month. Dimension One does go on to say that if you are a new spa owner, you should at least visually inspect the filters on a weekly basis to start.
1)  Turn off the spa's pumps so you don't damage the system.  You can set the spa into standby mode or turn the spa off at the GFCI breaker.
2) Locate the D1 filters in one or two filter compartments and remove the access lid.
3)  Remove filter lid by rotating counterclockwise and aligning tabs, then lift up.
4)  Twist filter counterclockwise to release it from the locked position, then lift it upwards.
Check filter for debris and rinse off.  There is also an inner filter screen on some D1 models. 
Removing this extra screen requires a screwdriver to loosen the retaining clips.  Then replace after hosed off.
Rinse off filter and replace.  Deep clean the filters at least every other month. Do not use household cleaners on your filter. It is also suggested that after rinsing off the filter you should wait until it is dry before reinstalling. This is why it is good to have a second filter on hand so they can be rotated.
D1 recommends replacing the filters on a new spa after the first year.   Be sure to remove both filters when there are 2 side by side.
They do say to clean the filter at least once a month. The systems may have 2 filters. To access that type of filter, find the skimmer basket and lift the center float off the skimmer assembly until it is fully extended. Now turn it counterclockwise until it lines up with the tabs. Then the assembly can be lifted straight up to remove it . To access the second filter, turn the lid counterclockwise to line up tabs and pull. Remove each filter by twisting it ¼ turn counterclockwise and lifting it out of the filter canister.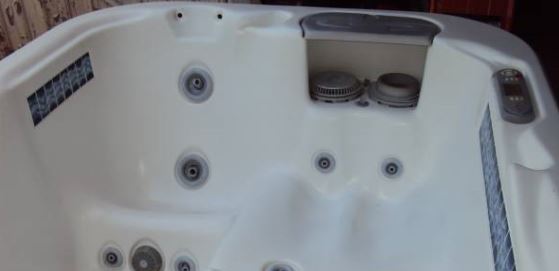 D1 recommends that every other cleaning should involve not only rinsing the filters off with a garden hose, but soaking the filters in a filter-cleaning solution.
All filter maintenance should be done with spa powered off. Once cleaned or new filter is properly installed, then turn the power back on at the GFCI. Run the pumps for a few minutes at high speed before letting the system return to the normal heating and filtration cycles.
Enjoy your Dimension One spa!