4CH-50 PTL50P-4 FC-0151 Spa Filter Canada M40503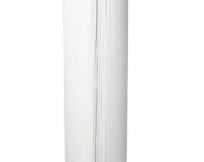 50 sq. ft. replacement spa cartridge filter replaces the following hot tub filter models in Canada:
Unicel 4CH-50
Pleatco PTL50P-4
Filbur FC-0151
M40503
Contact us by email for current link if this filter type is needed 4CH-50

Spa filter dimensions:
Diameter: 4 3/4″
Length: 14 3/4″
Top Hole: Handle
Bottom: 1 1/2″ MPT (fine threaded male connector)
This spa filter model 4CH-50 is made from quality Reemay brand filter fabric.  Note the bottom thread on this filter is a fine threaded connector.  There are also coarse threaded filters and ones without any threads, but a hole instead available.