Cal Spa Filters Canada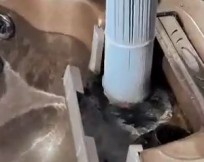 Cal Spas use several different types of spa cartridge filters in their hot tubs.
Popular Cal Spas Filters:
C-4995, PCAL100 and FC-2940 are equivalent Unicel, Pleatco and Filbur part numbers.  The measurements of this filter are:
Diameter: 5.0″
Length: 23 5/8″
Top Hole: 2 1/8″
Bottom Hole: 2 1/8″
Generic version of this filter available at: Pool Filter Replaces Unicel C-4995, Pleatco PCAL100, Filbur FC-2940 Filter Cartridge for Swimming Pool and Spa
 (last price check CDN $35.26  ea.)

Other Popular Cal Spas Filters
Unicel C-4950, Pleatco PRB50-IN, Filbur FC-2390
Unicel C-4305, Pleatco PMT50, Filbur FC-1617 (off-site best deal $22.58 ea.)
75 sq. ft. filter M50651 replacement for Unicel C-5374 and FC-2971 which measures
Diameter: 5 5/16″
Length:14 3/4″
Top Hole: 2 1/8″
Bottom Hole: 2 1/8″
There are many Cal Spas models, so they use several different types of cartridges. Some Cal Spa models have corner filters. Some spas have dual filters in a large, wide skimmer. Incidentally, this is the best place to refill your spa with a garden hose from to avoid air pockets in the plumbing lines.
How to Measure Cal Spa Filters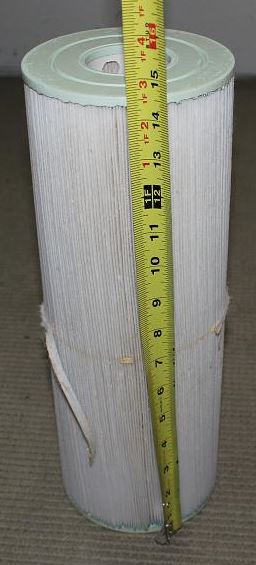 Just measure the length and outer diameter of the filter and note how the top and bottom end caps look like. If there is a center hole going all the way through the middle, just note this inner diameter and you have all the info you need to find the replacement filter. 
Sometimes a filter may be the same exact size, but the square footage may vary. Square footage of the filter paper is basically how much filter media is used and that can be seen in the amount of pleats it has as well. The larger the filter square footage, the more filtering surface area the filter has.
How to Clean Cal Spas Filters
Cleaning out the Cal Spa cartridge filters requires turning the spa power off first at the circuit breaker. Then remove the filter cover, filter basket and canister. Rinse filter cartridge off with a garden hose and then replace, also replacing the filter basket and closing the cover.  Once a month or so, depending on use,  rinse filter off first and then either put it in an overnight filter bath (a bucket with filter cleaning chemicals) or use an instant cartridge cleaner filter spray to dissolve stubborn oils and small particulates. Then rinse the filter again and replace.
Find your Cal Spas filter fast by putting the model number in the search box on the top of the page.  Don't find it here?  Send us a quick email (info@spafilters.ca) and we will find it for you in Canada.  Don't know the filter model number, try searching by dimension. Note the end cap configuration or hole size.
Pools may be opened and closed, but Canadians enjoy our hot tubs year round.