With your personal hot tub spa, you've essentially made an investment into endless days relaxing and unwinding, while taking advantage of the health benefits of hydrotherapy that a spa can provide. If you are searching for a hot tub, look for hot tubs made with the highest quality parts and materials, constructed using the most current and innovative methods of assembly. What you end up with is a tub that will bring you enjoyment for years to come.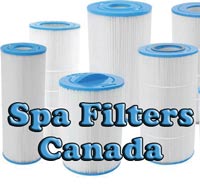 There are many quality spa manufacturers like Sundance, Arctic, QCA Spas and Dynasty, but there comes a time when the spa filters will require replacement. Of coarse, it's essential that you maintain a proper level of care on a regular basis to make sure that your filter performs its duty to the highest degree, and lasts as long as possible. But eventually you will have to replace the filter after a certain amount of time of use.  Generally, filters need to be cleaned every week to 10 days, and should be soaked overnight in a deep cleaning solution every month or so.  It is good to have at least one replacement spa filter on hand to alternate them between cleanings.  Most filters should be replaced every year or so, depending on how much you use your spa.
When it comes time to buy Dynasty spa filters or any other brand, Spa Filters Canada has all models to choose at prices lower than your retail spa dealer.  They sell top brand filters that are constructed with innovative fabric that efficiently filters out bacteria and other contaminants from your tub's water to ensure that you are immersing yourself in the cleanest water possible. Keeping debris out of your tub's water will help to inhibit the growth of bacteria that can compromise the safety of your water and the health of those who are soaking in the tub.  Keeping your filtration system clean also extends the life of your spa water, pumps and equipment.
Many spa filters also come with antimicrobial protection to provide added strength against the build-up and infestation of germs and bacteria. These filter cartridges prevent your water from becoming a nest for bacteria, algae and other contaminants that can not only compromise your spa's water, but also the entire tub itself. Since bacteria can easily build up in certain conditions, it's important to have the defense mechanisms in place to counter this. Buy quality filters that are tough enough to fight this bacteria build up that can cause murkiness and foul odors in your tub's water. Proper filters will ensure that the water is kept clean and clear, and inviting to all those who are looking for a nice, relaxing soak!