Beachcomber Spa Filters Canada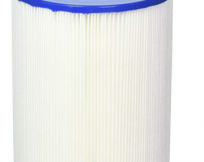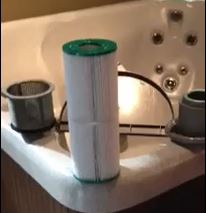 Replacement spa cartridge filters for Beachcomber hot tubs in Canada. 
Did you know you should replace your filters every year or so for optimum performance?  
Clean filters every few weeks and bathe them in an overnight filter cleaner every 2 months or so to keep them in great shape and to help keep your water clear.
Beachcomber Spas use 17.5, 25, 35 and 50 sq.ft. filters.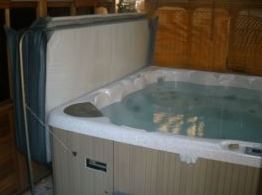 Popular Beachcomber Spa Filters include:
35 sq.ft. filter
Dimensions: 5″ diameter  4 5/8″ long and top hole 2 1/8″  bottom hole 2 1/8″
Compatible Filter Models: Pleatco PRB17.5SF-PAIR or Unicel C-4401 or Filbur FC-2386 or Master Deluxe M40352
Best Prices on Beachcomber Spa filters online:
Pleatco PRB25SF-PAIR replaces  Unicel  C-4405  or Filbur FC2387
Pleatco PRB25-IN replaces Unicel  C-4326 or Filbur FC-2375,M42513.
Pleatco PRB50-IN replaces  Unicel C-4950 or Filbur FC-2390,M40506.
Another type used in Beachcomber spas is the C-4401 or equivalent filter (these are smaller 4 5/8″ in length and 4 15/16″ wide).  To make sure you order the right replacement filter, just measure the existing filter diameter and length, noting the hole diameter on top and bottom as well.
Beachcomber Spa Filters Canada

Beachcomber Hot Tubs was founded by Keith and Judy Scott and they manufacture hot tubs in British Columbia, Canada.  They also give away spas on The Price is Right in exchange for sponsorship. 
The filter design on most Beachcomber spas is located in the corner of the spa.  In fact the entire current 700 spa lineup (models 715, 720, 725,740 and 750) utilize this same corner filter design.
The filters locations in the 300 series and 500 series are also all in the corners, except the 321 is a round tub, but uses the same type of filter access.

To access and replace the filter, turn the spa off or put it in Standby Mode (so that SbY appears on the topside control panel – first press temp up, then press pump 2 to change mode). Some models may not have a standby mode such as some of the 500 series units that only offer Economy, Sleep Mode and Standard Mode.   After assuring spa will not turn on any pumps while you are working on the filter, then simply remove the filter lid and the skimmer basket. 
A trim ring is used on these filters that needs to be turned to the left (counter clockwise) to unlock it.  This manufacturer recommends cleaning your spa filter every 2 weeks or so, and even more often if more people use the spa.  They warn that not cleaning the filter regularly can contribute to cloudy water, smell and even equipment damage because of decreased water flow.
Filters will last about a year, but if you rotate 2 of them, you can get 2 years out of the pair.
Many Beachcomber spas have a reminder message that pops up every month that says rCL which means remove and clean filter.
Beachcomber Microfilter
C-4326 or equivalent is a 25 square foot filter type that replaces many Beachcomber spa microfilters.  This is a 5″ wide filter that is 13 5/16″ long and has top and bottom holes measuring 2 1/8″ in diameter.   Reemay filter media is a brand name filter paper that will do a fantastic job filtering your Beachcomber hot tub. 
 It seems Beachcomber has a different name for many spa components to snazz them up. They call the spa cover a Heatshield, the tapered top a "slanted top" and the filter cartridge a "microfilter", but terminology aside, making sure your filter and cover are in good working order will help you enjoy your Beachcomber spa.
Beachcomber Hot Tub Q+A
Q: How much do filters cost for a Beachcomber hot tub?
A:  It depends on your filter size.  They can typically range from $20 -$60 ea. and should be replaced annually.
Q: How to change a Beachcomber filter?
A: Assure the power is off so the spa pump does not start up. Then remove filter lid, filter basket and take filter out. Rinse off and replace or exchange.
Q: How do I clean a clogged or dirty Beachcomber spa filter?
A:  See our spa filter cleaning tips.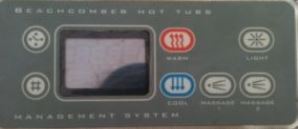 Beachcomber Hot Tub Models
 Although these are suggested filter types for specific Beachcomber Hot Tub models, it is always best to measure the existing filter to be sure you are ordering the correct replacement filter as manufacturers change filter types without notice, so one model could have more than one filter type depending on model year and other manufacturing circumstances.
Popular Beachcomber hot tubs:
750 hot tub model uses C-4950 (50 sq. ft. filter) and the C-4625 (25 sq. ft. filter). 
740 is an 89 x 89″ spa
725
720
580 – see sample of broken Beachcomber 580 filter below
578
550
540
520
380
360
350
340
321
Broken Beachcomber 580 Hot Tub Filter from a 2002 Spa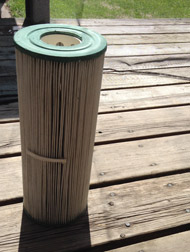 We recently received this image from a customer who knows it is time for a new filter.  Some characteristics of this one include tell-tale signs of wear such as broken outer bands and the filter pleats themselves which are no longer serviceable. 
Even when filters get close to this stage, they start to deteriorate and also not filter the water very well. They could even be doing harm to your pump and plumbing by making it more difficult to circulate the water. Sometimes a filter in this state can also cause FLO error messages or other heating issues.
The Beachcomber 580 Series and other models have a gravity floor drain and a hose bib to facilitate draining and filling the spa. You could also get a submersible pump and drain her a lot faster!  Instead of waiting around for hours, the submersible pump will empty the spa in a matter of 10-15 minutes so you can do an entire clean-and-fill in one go.
It is best to change the filter every year per manufacturer recommendation for best spa performance.
The manufacturer recommends putting the hot tub in stand by mode or turning it off at the breaker first, then rinse the filter with water from a garden hose every 2 weeks or so depending on use.
They also recommend soaking the filter with an overnight filter soaking solution and then rinsing it off prior to reinserting it in the spa. 
For this, having an alternate filter cartridge on hand is essential, as you should never operate the hot tub without a filter. Don't forget to power the spa back up after the filter has been swapped so you can enjoy your spa.
The Beachcomber 580 model is one of Beachcomber hot tub's popular units.  Interestingly, there is a floater in this picture indicating there is no built in chemical dispenser on this unit.  In the floater you can have bromine or chlorine tablets, although some people add granular chlorine to the spa instead of using a floater.