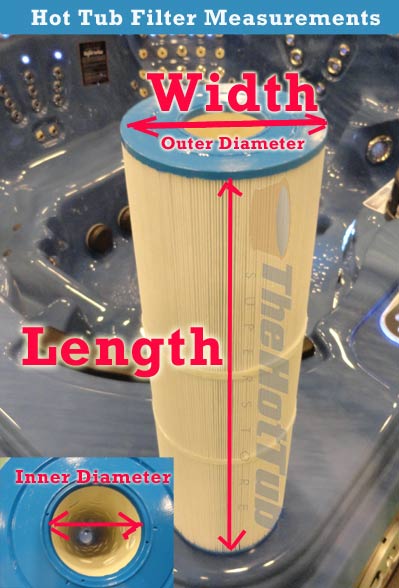 In order to replace a hot tub filter, it is best to measure the existing filter dimensions.  That way even if the manufacturer has changed the filter type on your spa model, you will always get the correct replacement filter.  You may also find a filter model number stamped on one or both of the filter end caps.  That will also allow you to cross reference the filter model number to the correct replacement filter by various spa filter manufacturers.
To measure a spa filter, simply take the length measurement, the width measurement and also the inner diameter measurement if there is a center hole.  Some filter will have a hole going all the way through the center core, while others may only have the hole on one side and a solid end cap on the other.
Make note of any handles, ropes or other unique features of your particular filter to assure the correct replacement.  If there is pipe threaded connector on one end, be sure you order the correct filter so it fits with your existing filter housing.
Measure length, width and inner diameter and get a replacement cartridge filter by searching for your filter dimensions in the chart.