Choosing a spa filter is as easy as finding the engraved or stamped number of the filter model on the actual filter end cap.  Enter the filter number into the search box at the top right to find your filter fast.
You can cross reference any number you find on the filter endcap with other filter manufacturers and brands to find a filter that will fit your spa.

If you don't have the filter model number (which is not the spa model name), then to be sure you get the correct replacement cartridge filter for your hot tub, measure the length, diameter and inner diameter of the existing filter.  Then you can shop for the replacement filter based on the dimensions.   It is not enough to know the hot tub brand because spa manufacturers may change filter configurations on the same model name.  To be sure, measure the filter.
 To measure the spa filter, simply measure the length of the current filter end to end, without measuring any extra portrusions on one or both of the end caps.  Next measure all the way across the width of the filter. This measurement is the outer diameter.  Finally measure the center hole width or inner diameter.  Now you have all the measurements you need to find the right filter.
 Note any irregularities on one or both of the ends of the filter. Some filters may have a threaded end that screws into the filter compartment while others may have a solid end cap on one end or other layout.  These characteristics of your particular filter will appear in the product description once you narrow down your choices by size.
Find your filter by putting the filter model number in the search box at the top-right of this page like: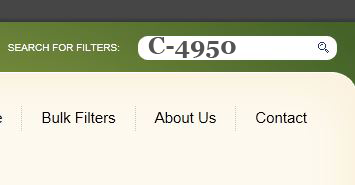 Enjoy your spa and keep your filter clean!