Spring has finally sprung, and a closer inspection of the hot tub may reveal a problem with the filter housing.  Sometimes draining and applying silicone may just do the trick depending on where the leak is. If it is between the shell and the housing, this may actually work, but if there is a crack in the actual housing and you cannot get it sealed, the housing can also be replaced.  If the filter housing is a pressurized type, it will definitely need to be replaced.  Otherwise you can also try a marine grade sealant/underwater epoxy application first.
New Hot Tub Filter Housing
If a new housing is required, there are popular brands such as Waterway and Rainbow manufacture high quality housings that won't easily crack in a hot tub application. Getting the right replacement filter involves matching the type and dimensions of current housing to avoid further problems with aligning the plumbing or having to alter the shell cutouts.   Filter housing bodies come in different lengths, so it is important to get the measurements right for a trouble-free replacement.
Pressurized vs. Non-Pressurized Filter Housings
In a hot tub, you will generally see either a pressurized or non-pressurized filter canister.  The pressurized ones typically have a lock ring that requires unscrewing before you can open the canister and access the cartridge.  In the non-pressurized types, you can freely access the filter just by removing a lid of some type, depending on spa model.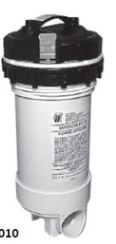 Top Load vs. Front Load Filters
Access to the top load type of filter housing is, well, from the top.  Just remove the protective filter lid and you can look down into the filter housing.  Sometimes there is a chemical dispenser or secondary barrier that needs to be removed, but then you can pull the filter cartridge straight up without needing to drag it through the weir door or other sideways motion.  To access a front load cartridge, you typically reach in from the spa side and pull the cartridges out through the water.

Hot Tub Filter Housing Parts
Sometimes all that is needed is to replace a weir door or a canister lock ring.  Most hot tub filter canister parts are also available a la carte.  Bypass valves are part of many top load filter systems which allow for pressure relief in the case the filter would be plugged up. This allows for a secondary path of water to bypass the filter and keep the pumps operating in that event.
Other popular filter parts include replacement filter baskets which prevent larger particles from entering the plumbing lines of your spa.
See a wide range of hot tub filter canisters and assemblies online at Amazon Canada.