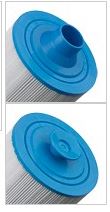 As many spa filters come from the U.S. or are priced in U.S. dollars, it is inevitable that wholesale and discount prices will have to go up in Canadian dollars.  Grab the filters you need asap as there are pending price increases over the coming month as current stock runs low (that was bought when Canadian dollar was closer to par). 
It does not look like oil prices are heading up or the Canadian dollar is going back to par with the US dollar anytime soon, so stock up before this inflation starts to affect the price of your spa filters. 
Many things in Canada will not experience inflation. The low Canadian dollar, it is said, is great for our exporters.  But when it comes to goods made or shipped from the States, those are going to go up if you are paying with Canadian dollars.  20% is a big move in under a year.
Note:  spa filters should be changed once a year, so we recommend you get the 4-pack and not have to worry about filters or exchange rates for the next 4 years!
Thanks for visiting Spa Filters Canada www.SpaFilters.ca for all your hot tub filter needs in Canada.
Spa Filters Canada remains committed to finding you the best quality and lowest priced replacement cartridge filters in North America.