Comfort Line Spa Filters Canada
Need a replacement filter for your Comfort Line spa in Canada?
Popular Comfort line filters include:
18 sq. ft. filter C-4302 replaces PSS17.5, C‐4302, FC‐0183 and measures just 4 3/4″ long with a wider diameter of 5″ and top handle with bottom hole measuring 1 7/8″.
20 sq. ft. filter FC-9902 and measures 8″ long x 4 1/4″ diameter with top and bottom openings measuring 2″. (used in 2005 and later year Spa-n-a-Box models)
Comfort Line spas are sold through Home Depot, Wayfair, Walmart,  Cabela's, QVC, Brookstone and other mass merchants. Find a filter for your Spa-n-a-box, Spa2go, EZ-Spa, Lime Spa & Snappy Spa. For these spas, the filter fits inside the filter canister and not inside the spa like for older Comfort Line brand models.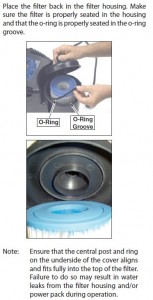 Cleaning the filter on Snappy Spa
When accessing the filter on a Snappy Spa, first unplug the power pack and then you will need to use the 3 caps provided to cap the suction and discharge fittings on the inside of the spa.  After that, open the bleed fitting on top of the filter and unscrew the retainer ring around the filter housing to remove the filter housing cover.  You can then see the filter, so pull it upward and out and then rinse off with a garden hose. When replacing the filter back into the filter housing, make sure it is correctly seated and that the o-ring is correctly seated in the o-ring grove.
To replace with new filter, perform the reverse of above to reinstall filter.  Only after the filter is completely installed and the caps have been removed from the spa suction and discharge fittings as well as the air bleed valve then opened for about 1 minute or until water starts to drip from the fitting should the power pack be plugged back in.