Unicel C-4950 Canada Replacement Filter Cartridge c4950
Unicel C-4950 Spa Filter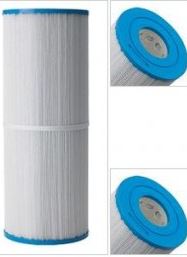 Filter Cross Reference and Price Comparison for Unicel C4950 Filter:
Specifications: 50 sq. ft. spa filter
5.0″ Diameter
13 5/16″ Length
2 1/8″ Top Hole
2 1/8″ Bottom Hole
This filter type has holes/openings on both ends.  "Easy install, cleans great!"
 All quality cartridge filters use white, spunbonded 100% polyester Reemay brand filter media or paper.  Reemay is FDA compliant in the States and approved even for food service filtration like milk and other liquid filtration.   Quality filters are designed for maximum flow and minimum pressure loss for the most efficient filtration and spa pump operation.
Fits many hot tub models including: Aber, Maax Spas, Infinity Spas, American Spas, Apollo Spas, Diamante Spas, Arctic Spas, Beachcomber Spas (part #3005815), Bullfrog Spas,
Cal Spas, Caldera Spas, Charisma Spas,Coast Spas, Coleman Spas, Columbia Spas, Dynasty Spas, Great Lakes Spas, Barefoot Spas, QCA Spas (Home Depot), Hydro
Spa, Hydropool (Top Load Cartridge), Serenity Spas, Jacuzzi, Premium Leisure, Vita Spas, Warm Springs and more.  Filter type offered by Waterway (In Line / Top Load), CMP – Custom Molded Products and Rainbow (Dynamic 50).
Replacing the C-4950 Cartridge Filter
This type of filter does not have any threaded connections, so simply turn the spa off, access the filter compartment and remove the old filter.  Replace the new filter inside the spa and close up the filter lid or compartment and turn the spa back on.  Enjoy clear water in your hot tub.
Clean the C4950
Every few weeks or as needed, hose off the C4950 filter between the pleats to get rid of accumulated debris and dirt.  Every month or two, do a deep filter cleansing with either an overnight filter cleaner or filter spray. Read more about hot tub filter maintenance. 
Note that if the filter is not cleaned regularly and oils and debris are allowed to accumulate inside the pleats, eventually the pumps have to work harder to move water through the filter and it may get to the point where the filter does not pass much water at all.  Most hot tub manufacturers have a bypass built into the main circulation line so that if one part fails, the other suction will take over to avoid any entrapment issues.  This is actually a required safety feature. 
The downside is that if the cartridge filter is clogged, the spa may still appear to function, but the circulation is happening on the second intake and not through the filter, so you are just cycling dirty water through the pumps, jets and equipment at that point.  Leaving the spa in this condition can cause early deterioration of pump seals, heater failur and other expensive repairs.  So it pays to take care of your spa filter and your filter will take care of you!
c4950 is an upgrade for same-sized 25 sq.ft. filter
Note this is a 50 square foot cartridge, so it has 50 sq.ft. of filtration media.  The same sized filter that contains half as many pleats is available in a 25 sq. ft. version (Unicel C-4325 or C4326) for less, but they also has 1/2 the filtration surface area of this 50 sq. ft. filter, so all things being equal, this one is an upgrade to some 25 sq.ft. filters with the same dimensions and end cap types. (in this case there is no end cap because there are equally sized holes at the top and bottom.
Remember to change your hot tub filter annually. You did change your HVAC filter this year?  Treat your spa water and yourself right with clean, filtered water.
C-4950 replaces many hot tub brand filters:
Arctic Spas
Aqua Spas
Apollo Spas
Artesian Spas
Beachcomber Hot Tubs
Cal Spas
Canadian Spa
Coast Spas
Coleman Spas
Coyote Spas
Diamond Spas
Dynasty Spas
Freedom Spas
Great Lake Spas
Haven Spas
Home Depot Spas
Hydro pool Spas
Hydro Spa
Jacuzzi J200 series
QCA Spas
Signature Spas
Southwest Spas
Sundance Spas
Sun Ray Spas
Sunrise Spas