Intex Type A Filter Above Ground Pool and Hot Tub Cartridge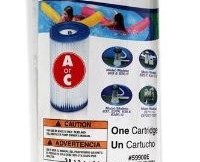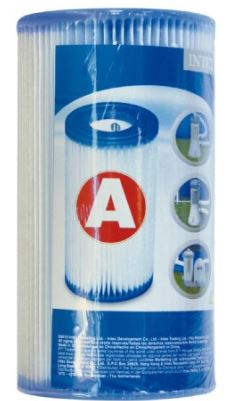 The Intex Type A cartridge is used on many above ground pools as well as some inflatable hot tubs.
Features of the Type A style cartridges include:
Easy to clean Dacron filter material
Shrink wrapped filter
Replace these type of cartridges every two to four weeks or so depending on use
For systems with filter pump type #58603/58604/56637/56638/56635/56636
Easy to change out
Intex Type A Dimensions:  8″ x 4.2″ x 4.2″ (20.3 x 10.7 x 10.7 cm)
This 4-1/4″ x 8″ filter cartridge is an easy-to-clean Dacron filter mainly for above ground pools.
Rinse this filter off with a garden hose to extend filter life.
Get the Type A filter in Canada here: Intex Type-A Filter Cartridge
.
The Intex type A filter is easy to clean and made with Dacron filter material. It is recommended that these cartridges be replaced every 2 weeks or so.
There is also an Intex type B filter for Intex Model 51, 633, 633T, 621, 520, 520R, 530, 530R, CS8111 & 8111 Filter Pumps. There is also a type C filter used in some above ground pools, inflatables and portable hot tubs.