Filbur FC-2780 Filter Cartridge C-8326 PSD125-2000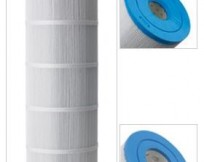 125 sq. ft. Filbur brand replacement hot tub filter cartridge  replaces the following hot tub filter models in Canada:
Unicel C-8326
Pleatco PSD125-2000
Pleatco PSD125-2000/-M
Sundance Spas 6540-488
Master Deluxe M81252 compare this Master Deluxe Brand at $85 ea.  vs. Filbur below.
Spa filter dimensions:
Diameter: 8.5″
Length: 19.0″
Top Hole: 2 1/2″ – open with beveled edge
Bottom Hole: 2 1/8″ -open type

This Filbur spa filter model FC-2780 is made from quality materials.  This filter replaces Sundance Spas 6540-488 and other hot tub brand filters.
Filbur FC-2780 ==> Buy the Special 3-pack and SAVE more along with FREE Shipping in Canada!
Sale: $98.97 ea. Bulk: 3 for $296.19 Get FREE SHIPPING anywhere in Canada when buying the bulk 3-pack or for any other orders over $200.