Filbur FC-1255 Spa Filter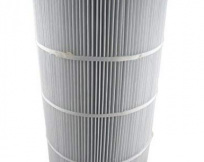 The Filbur FC-1225 brand spa filter is a 75 sq. ft. replacement cartridge compatible with:
Pleatco PA76
Unicel C-8411
Filbur filters are made with quality Reemay filter media.
Spa filter dimensions:
Diameter: 8 15/16″
Length:17 3/8″
Top Open 4.0″ outer diameter
Bottom Open 4.0″ outer diameter
This Filbur spa filter model FC 1255 is made from quality Reemay filter media and materials.
Reinforced Center Cores

Reinforced End Caps

Unmatched Quality
75 sq.ft. cartridge filter for pools and spas.