C-9410 PAP100-4 FC-0686 Spa Filter Canada M10101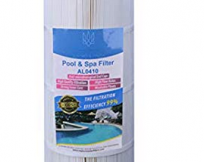 100 sq. ft. replacement spa cartridge filter replaces the following hot tub filter models in Canada:
Unicel C-9410
Pleatco PAP100-4 – click here to compare with Pleatco brand filter 23-5/8-by-6-by-6-inches.
Filbur FC-0686
Master Deluxe M10101  – find this C-9410 replacement spa filter online with this 2-pack and Free Shipping (Amazon Canada)
Spa filter dimensions:
Diameter: 10 1/16″
Length: 23 5/8″
Top Hole: 6.0″
Bottom Hole: 6.0″

This  filter model replaces Pentair R173215 and PAP100-4 and is made from quality Reemay brand filter fabric. 
Bulk 2-Pack Available for this filter size:
Unicel C-9410 – Pleatco PAP100-4, Filbur FC-0686 compatible
This tall filter cartridge is used by hot tub manufacturers that buy American Products, Pentair or similar filter canisters.
Replacement Clean and Clear 100 filter for Pool and Spa systems that need 10 1/16 inch (Outside diameter) by 23 5/8 inch (Length) filters