C-7471 Compatible Spa Filter Cartridge Pleatco PCC105 Filbur FC-1977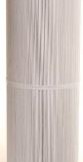 The Unicel C-7471 compatible spa cartridge filter measures:
Length: 26″
Diameter: 7″
Top and bottom openings: 3″ (inner diameter)
Filtering surface: 105 sq. ft.
The generic filter replaces:
Unicel C-7471
Pleatco PCC105
Filbur FC1977

This spa filter model type is made from quality Reemay brand filter fabric.
This filter is used in pool and spa applications and is also a replacement for Pentair filter CCP420.