C-7471 Compatible Spa Filter Cartridge Pleatco PCC105 Filbur FC-1977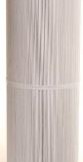 The Unicel C-7471 compatible spa cartridge filter measures:
Length: 26″
Diameter: 7″
Top and bottom openings: 3″ (inner diameter)
Filtering surface: 105 sq. ft.
The generic filter replaces:
Unicel C-7471
Pleatco PCC105
Filbur FC1977
Pool Filter Replaces Unicel C-7471, Pleatco PCC105, Filbur FC-1977 Filter Cartridge for Swimming Pool and Spa

This Master Deluxe spa filter model M80755 is made from quality Reemay brand filter fabric.
This filter is used in pool and spa applications and is also a replacement for Pentair filter CCP420.
This product is also available in a 4-pack in Canada. Pool Filter 4-Pack, Replaces Unicel C-7471, Pleatco PCC105, Filbur FC-1977 Filter Cartridge for Swimming Pool and Spa