C-4975 PRB75 FC-2395 Spa Filter Canada M40751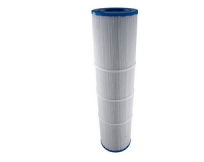 75 sq. ft. Master Deluxe replacement spa cartridge filter model M40751 replaces the following hot tub filter models in Canada:
Unicel C-4975
Pleatco PRB75
Filbur FC-2395
M40751
Find this C-4975 type replacement spa filter online for as low as CA$

49.98

ea. with free shipping too. (Amazon Canada)
This one is supplied by The Cover Guy.
Spa filter dimensions:
Diameter: 5.0″
Length: 20 1/8″
Top Hole: 2 1/8″
Bottom Hole: 2 1/8″

This hot tub spa filter is made from quality Reemay brand filter fabric. 
Used as a replacement for: Filbur FC-2395 / Unicel C-4975 / Pleatco PRB75

Features: Free Flow Core; Excellent Dirt Holding Capacity; Affordable choice for filter cartridges

Specifications: Diameter: 5″, Length: 20 1/8", Top: 2-18″, Bottom: 2-1/8″
Current Best Filter Price:
A better price may be available here for a compatible filter: Unicel C-4975, Pleatco PRB75, Filbur FC-2395 Filter Cartridge for Spa

but last check $55.95 ea.