C-4310 PWW10 FC-3077 Spa Filter Canada M40101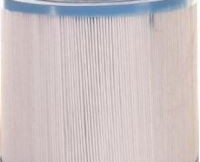 10 sq. ft. replacement spa cartridge filter C-4310 replaces the following hot tub filter models in Canada:
Unicel C-4310
Pleatco PWW10
Filbur FC-3077
Master Deluxe M40101
Find this filter type in Canada here: c-4310
Spa filter dimensions:
Diameter: 4 1/4″
Length: 4.0″
Top Hole: 2 1/16″
Bottom Hole: 2 1/16″

This filter is also used in QCA Spas Capri and Santa Maria with part number: 25249-800-000. 
This 10 square foot replacement cartridge is found in Dream Star, Capri and Gemini 2 person spas as well.
This spa filter model C-4310 is made from quality Reemay brand filter fabric. 
Compare with filter found on Amazon Canada with last price $29.99 : QCA Spas 25249-800-0 10 Square Feet Hot Tub Filter for Gemini QCA Oval Spa, 6 by 6 by 3-Inch, White