6CH-26 Replacement Hot Tub Filter Canada FC-0130 PTL25W-SV-P4-4 2-Pack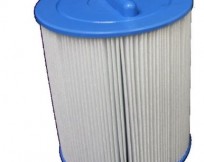 This listing is for a 2-pack of 6CH-26 Unicel style hot tub replacement filters by Guardian. 20 sq. ft. Master Deluxe replacement spa cartridge filter model M40101 replaces the following hot tub filter models in Canada:
Contact us by email if this filter type is needed and we will send link to currently available filter in Canada.
Unicel 6CH-26
Pleatco PTL25W-SV-P4-4
Filbur FC-0130
Spa filter dimensions:
Diameter: 6.0″
Length: 9.9″
Top Hole: Handle
Bottom: 1 1/2″ MPT (fine threaded connector)
This replacement spa filter is ideal for some models by
Aber Hot Tub
Advanced Spa Design
Blue Ridge
Crystal Water Spas
Dolphin Spas
Gatsby Spas
Hydro Spa
La Spas
Pacific Spas
Premium Leisure
Finding replacement filter cartridges for your Premium Leisure, Hydro Spa and other brand spas can be as easy as a visit to Spa Filters Canada.  We aggregate the best hot tub filter suppliers in Canada to find you the best quality filter at the lowest online price. 
Also save time by not running around to stores that can't possibly stock hundreds of filter skus. We've got the right filter for you with fast shipping to anywhere in Canada.
Contact us with any questions and thanks for visiting Spa Filters Canada.