6CH-25 PTL20W-SV-P-4 FC-0305 Spa Filter Canada M60251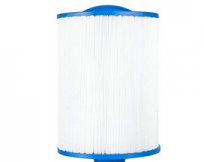 20 sq. ft. AK-9011  replacement spa cartridge filter replaces the following hot tub filter models in Canada including Softub filters:
Unicel 6CH-25
Pleatco PTL20W-SV-P-4
Filbur FC-0305
OEM 90-802
Master Deluxe M60251
Find this 6CH-25 replacement spa filter online for as low as CA$

24.95

ea. with free shipping on 2x.
Spa filter dimensions:
Diameter: 6.0″
Length: 5 1/2″
Top Hole: Handle
Bottom: 1 1/2″ MPT (fine threaded connector)

This Baleen filter model that replaces M60251, 6ch-25,fc-0305 and PTL20W-SV-P-4 is made from quality Reemay brand filter fabric.
The 6CH-25 type filter is used in the Softub 220 and other model hot tubs.  Works on older softtub models as well with the fine threaded connector at the bottom. Replaces the 25 sq. ft. Softub cartridge to keep your water clean.