6540-502 Sundance Microclean I Disposable Filter Replacement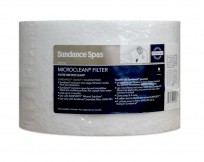 Fits Sundance spas that use 6540-502 type Microclean disposable filter cartridge.  This is the brand name Sundance replacement filter. 
This is the Inner Core Microclean filter used in Sundance spas. This spun-bound microfiber cartridge filters the smallest particles for ultra-fine hot tub water filtration of your Sundance Spa. Get crystal clear water and enjoy up to 4 months of filtration with this Microclean Filter.  Use with Sunpurity Mineral Sanitizer.  For use with Sundance filter type 6540-501 as 2 stage filtration.
Price as low as: $24.81 ea. with free shipping on orders over $35 at Amazon Canada.

This Sundance Spas filter guarantees the quality of these filters for 2-stage filtration.