J-300 Jacuzzi 6000-383A M6000383A Spa Filter Canada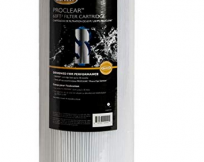 60 sq. ft. Jacuzzi replacement spa cartridge filter replaces the following hot tub filter models in Canada:
Spa filter dimensions:
Diameter: 6 5/8″
Length: 15 7/16″
Top Hole: Cap/Handle
Bottom Hole: 2.0 SAE coarse threaded connection (male thread) 
filter types may vary, so check top and bottom to be sure it is the right one
Quality spa filters are made from quality Reemay brand filter fabric. 
Get the right hot tub filter from SpaFilters.ca.
The Jacuzzi J-300 hot tub series is made up of the models:
J-310™ model
J-315™ model
J-325™ model
J-335™ model
J-345™ model
J-355™ model
J-365™ model
J-375™ model
J-385™ model
The filter screws into the J-300 Comfort Collection hot tubs and provides excellent filtration for your Jacuzzi.
The J-385 is the flagship model that seats 6 with PowerPro therapy seat and jets including a jetted foot dome.  Be sure the waterfall delivers fresh, clean water by cleaning the cartridge filter regularly.