4CH-949 PWW50L FC-0172 Spa Filter Canada M40508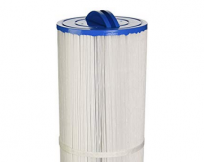 50 sq. ft. 4CH-949 replacement spa cartridge filter replaces the following hot tub filter models in Canada:
Spa filter dimensions:
Diameter: 5.0″
Length: 13 1/16″
Top: Handle
Bottom Hole: 1 1/2″ F* SAE (female socket)

This replacement spa filter model is made from quality Reemay brand filter fabric. 
This type of filter for Arctic Spas is used on many 2009+ Arctic hot tub models.
Note the female threaded socket size is listed as a nominal pipe thread size of 1-1/2″, but that is not the actual measurement of the inside diameter.  This  1-1/2″ coarse threaded socket actually measures about 1-7/8″ inside diameter (I.D.) for your reference.