2540-387 Spa Filter Canada M2540387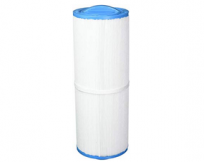 35 sq. ft. Jacuzzi 2540-387 replacement spa cartridge filter replaces the following hot tub filter models in Canada:
Jacuzzi Brand Filter: Proclear II 12in. Polish Filter, 2009 and newer Jacuzzi J-480, J-470, J-465, 2540-387.
This filter is used under the ProPolish bag.  Compatible with Jacuzzi Models 2009 and newer:
J-465, J-470, J-480
(also works with previous years) 
This is a secondary filter NOT the main filter for the spa.
Spa filter dimensions:
Diameter:  4 3/4″
Length: 12 1/2″
Top Hole: Closed with Handle
Bottom Hole: 2.0 SAE
This Master Deluxe spa filter model M2540387 is made from quality Reemay brand filter fabric.