2000-498 Spa Filter Canada M2000498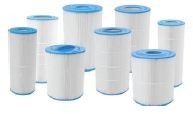 40 sq. ft. replacement spa cartridge filter replaces the following hot tub filter models in Canada:
Pleatco 2000-498
Sundance 2000-498
M2000498
45sqft ProClearII
Used in J-460 2006-2011 and J-465 01/07-04/07 Jacuzzi hot tubs
Find this Jacuzzi J400 filter type online.
Spa filter dimensions:
Diameter: 6.0″
Length: 13 1/2″
Top Hole: Cap/Handle
Bottom Hole: 2.0 SAE (hole size 2.375 inches)
Contact us for availability.
This quality spa filter is made from quality Reemay brand filter fabric.