SpaBoss Cartridge Filter Cleaner Canada

The 1 litre SpaBoss Cartridge Filter Cleaner solution will help deep-clean your hot tub filter. This can be used every month or two to unclog filter pores and increase the spa circulation efficiency.
The low foam formula actually breaks down all sorts of contaminants in the water including lotions, makeup, body oils and other contaminants that can clog up your filter and reduce its efficiency.  Maintaining your spa filter improves water quality and reduces strain on pumps and equipment.
Instructions
Simply pour 16 oz of SpaBoss Concentrated Cartridge Cleaner into a bucket or pail with 2.5 gallons water.
Let the filter cartridge soak for 12-24 hours. Remove, rinse off with a garden hose & replace into the spa.
Use a second filter in the spa before beginning the overnight filter cleaning treatment for uninterrupted use of your hot tub.
SpaBoss Brand Cartridge Cleaner is similar to:
Arctic Pure Filter Restore, Beachcomber Filter Pure, Leisure Time Cartridge Cleaners, Spa Guard Filter Brite and other commercial overnight cartridge filter cleaning solutions.
Get Spa Boss chemicals in Canada online at Amazon Canada. Buy it at the same time as your replacement filter(s) and save on combined shipping.
* follow manufacturers directions on the label regarding proper dilution in water and wear protective gloves as this is an acid based product for powerful filter cleaning.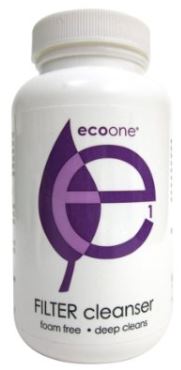 Alternatively, there is also EcoOne filter cleaner from $15.96 each. This is a foam free, deep filter cleanser that does not use acid or bleach. Up to 15 uses per bottle in this fast acting, concentrated formula.
EcoOne Filter Cleanser