Pleatco PWK65 Filter Cartridge
Pleatco PWK65 filters are available online in Canada:
Pleatco PWK65 Replacement Cartridge for Watkins Hot Spring Spas Upgrade from PWK45N, 1 Cartridge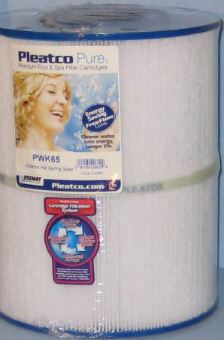 The Pleatco brand PWK65 pool and spa filter is for Hot Spring spas by Watkins and other hot tub models and brands. Pleatco filter cartridges are made with Reemay filter media and have extra strong banding as well as antimicrobial end caps that are resistant to chlorine degradation. Pleatco filters are made in the USA.
See the Spa Filters Canada Pleatco store to shop for more Pleatco and other brand filters.
This filter features a 50% open ABS free flow core to maximize water flow through the Reemay filter media.
The PMS8 filter cartridge measures:
Length: 10 1/2″ long
Diameter 8 1/2″
Bottom Hole: 3″
Top Hole: 3″
This is for the Pleatco brand PWK65 filter in Canada.