Pleatco PMA40L-F2M Replacement Master Spas Cartridge 40SF Long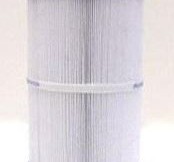 40 sq. ft. Pleatco brand replacement spa cartridge filter model PMA40L -F2M for Canada:
•Fits Master Spas Twilight hot tubs
•Bottom threaded connector
Spa filter dimensions:
•Diameter: 6 0″
•Length: 9 1/4″
•Top Hole: Handle
•Bottom Hole: 2″ MPT threaded connector (fine threaded male connector)
This filter is used in Master Spas. The antimicrobial end caps resist chlorine or bromine degradation and provide support to filter material for a longer life span.  The quality core features half-open ABS free flow core to maximize water flow through quality REEMAY brand filter media. Superbond bands assure filter integrity over the life of the filter cartridge.