MSPA Filter Cartridge 110mm OD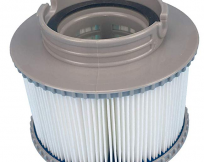 This filter works in select model MSPA inflatable hot tubs.
Filter type remove dirt and germs, giving you clean and fresh water in your MSPA hot tub.
– Outer diameter: 110mm/ 4.3 inches;
-Height : 86mm/ 3.4 inches
– Model: FD2089, Filtration area (square feet): 10, End cap material: ABS.
– Upper end: buckle, Lower end face: flat 6 small steam holes
– MSPA models only: Tuscany, Elegance, Camaro, Alpine, Blue Sea, Silver Cloud, Castello.
Gray plastic end caps.
About fifteen bucks apiece – Canadian$  See the current offering for this filter type here:
MSPA Filter