Master Deluxe Disposable PP Filter M007064D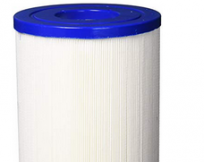 Filter Cartridge- Disposable Depth  filter with mesh wrap; open top and bottom
There is a disposable filter type M007064D, but the real filters are more durable and longer lasting.  Size is similar to C-4950 type filter.
Spa filter dimensions:
Diameter: 5.0″
Length: 13-1/8″
Center Hole: 2-1/8″ inner diameter top and bottom
The best replacement we currently offer a link to is the full qualtiy, non-disposable Pleatco PRB50-IN filter available on Amazon Canada.