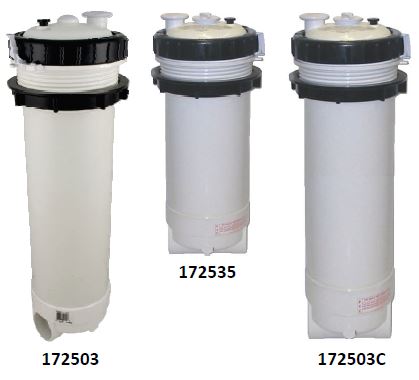 Every hot tub filter that goes into a hot tub actually fits into the hot tub filter canister or housing that the manufacturer selected when producing that particular brand of hot tub.
There are several companies that manufacture the hot tub filter housings for the spa companies including Waterway, Pentair, Rainbow, Hayward and CMP as well as canister brands like Dyna-Flo.
There are many parts that make up a complete filter housing from the canister to the filter basket and lid.  Some filters use a weir door (flapper) that moves back and forth with the water movement, while others have removed the weir door citing that it impedes water flow.
Front Loaded vs. Top Loaded Filters
Front loaded filters are accessed from the front of the housing and there is often a weir door installed, while top loaded filter cartridges are removed out of the top of the filter. 
Underwater filters include the vane style filter with a floating weir which is top-loaded, and another filter type is the pressure filter which is also top-loaded.
Note that with the floating weir type of filter as used on Emerald Spas, some QCA Spa models like the Moonstone and other hot tubs, that you should always maintain the spa's water level at least 2" above the opening of the skimmer or damage to the system may result.
Hot Tub Filter Housing Problems
Usually, the housing for the filter is quite robust and not a lot goes wrong with them, but in an extreme case, they can crack and then it may be necessary to replace the entire housing or body. 
Sometimes it is only necessary to exchange certain parts on a hot tub filter canister rather than the whole unit.
Repair a hot tub filter housing assembly leak or crack, or get a new one.
Hot Tub Filter Housing Parts
Popular hot tub filter replacement parts include the o-rings for the lids of pressure filters, locking rings for pressure filter canisters, threaded filter bottoms, filter lids and the skim filter bodies.