Filbur FC-1293 Filter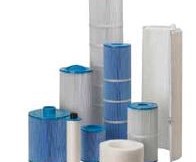 The Filbur FC-1293 brand spa filter is a 120 sq. ft. replacement cartridge compatible with:
Filbur filters are made with quality Reemay filter media.
Spa filter dimensions:
Diameter: 8 15/16″
Length:23 1/4″
Top Open 4.0″ outer diameter
Bottom Open 4.0″ outer diameter

This Filbur spa filter model FC-1293 is made from quality Reemay filter media and materials.
Replacement Hayward C-1200 filter for Pool and Spa Systems that need a 8 15/16 inch (Outside Diameter) by 23 1/4 Inch (Length) Filter Area 120 sq. ft.

Antimicrobial end caps resist chlorine degradation and provide support to filter material for a longer life span

Durable and Washable Pleated fabric that maintains strength even when loaded with sediment, our high flow core is designed to support the filter while providing industry leading flow rates while causing less wear and tear on your pump.

Made with density combined mirco membrane cloth. Large filtration area and dirt capacity, at he same time the filter has great flow and a long service life
This one is offered with a 100% money back guarantee and free shipping too..