Filbur FC-0303 30 Square Foot LA Spas Advanced Filter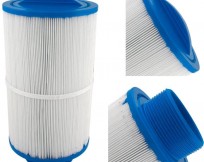 The Filbur FC-0303 brand spa filter is a 30 sq. ft. replacement cartridge compatible with:
Pleatco PLAS35
Unicel 5CH-203
Filbur filters are made with quality Reemay filter media.
Spa filter dimensions:
Diameter: 5 1/16″
Length: 8 1/2″
Top Closed
Bottom 3 1/2″ hole

This Filbur spa filter model FC-0303 is made from quality Reemay filter media and materials by Filbur Manufacturing. This cartridge filter replacement is used in LA Spas and Advanced Spa Design hot tubs.
Model FilFC0303 replaces Unicel 5CH-203. Also used as an LA SPAS Sock Filter Substitute.
Filbur FC-0303 ==> Find the best deal online for Filbur brand and compatible hot tub filters.  It no only replaces Unicel 5CH-203 type filters, but is used as an LA SPAS Sock Filter Substitute.
Retail: C$ 44.80.ea. – click button for best current price.