Caldera 75 Spa Filter C-7375 PCD75N SC787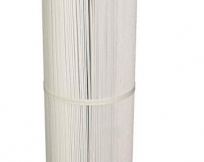 75  sq. ft. C-7375 style replacement spa cartridge filter by Darlly replaces the following hot tub filter models in Canada:
Unicel C-7375
PCD75N
SC787
AK-60032
FC-3964
1019301
M73531
H73531
73531
Spa filter dimensions:
Diameter: 7.0″
Length: 14 3/4″
Top Handle – closed
Bottom Hole: 2 11/16″

This spa filter is made from quality Reemay brand filter fabric. 
What makes this Caldera 75 sq. ft. cartridge so popular is that it is used in Caldera and Watkins hot tubs in Canada.
Buy this filter at the link above.