C-8350 Unicel 50 Sq Ft Filter Cartridge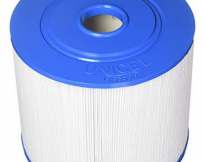 50 sq. ft. replacement spa cartridge filter model C-8350 replaces the following hot tub filter models in Canada:
50 sq. ft. Vita Spa filter
Improved filtering with more pleats
Heavy-duty polyester material
C-8350 filter
Spa filter dimensions:
Diameter: 8 1/2″
Length: 7 1/4″
Top Hole: 1 9/10″ inside diameter
Bottom Hole: 2 3/8″ inside diameter
Contact us for a current link to order this filter type C-8350
This Unicel original spa filter is available online for purchase.
Diameter: 8 1/2 ; length: 7 1/4

Top end cap: open, 1 9/10″ inner diameter; bottom end cap: open with slots, 2-3/8″ inner diameter

Pleat count: 258; filter media: 3 oz reemay 2033; filter area: 50 sq. ft.

Get more efficient filtration and better water clarity with Unicel filters