C-7487 Hayward C4000 Pool Filter Swim Clear C4020 PA100N-4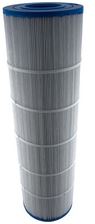 The Unicel C-7487 compatible swimming pool cartridge filter measures:
Length: 25 1/2″
Diameter: 7″
Top and bottom openings: 3″ (inner diameter)
Filtering surface: 100 sq. ft.
This replacement cartridge filter with Reemay Filter media replaces:
Unicel C-7487
Pleatco PA100N-4
Filbur FC-1270

This Pleatco compatible PA100N Replacement Cartridge for Hayward Super-Star-Clear C4000, SwimClear C4020 and Super-Star-Clear C4000S pool filters is the perfect replacement filter with antimicrobial end caps that are resistant to chlorine degradation.
Quantity: 1 Cartridge.  Note that most systems require 4 filter cartridges.
 Made in the USA with a 50% open ABS free flow core to maximize water flow through the Reemay filter media.
Longer life span.  The price is right!  They do work. See the reviews. One reviewer mentioned he would be back if they did not work, but they work just fine because the filter media is Reemay.  Check the length of your application as this filter is 25 1/2″ long.