C-5351 PCST120 FC-2976 Spa Filter Canada M51351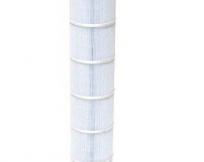 120 sq. ft. C-5351 replacement spa cartridge filter replaces the following hot tub filter models in Canada:
Unicel C-5351
Pleatco PCST120
Filbur FC-2976
Master Deluxe M51351
Find this replacement filter type in Canada here: C-5351
Spa filter dimensions:
Diameter: 5 3/8″
Length: 30 1/8″
Top Hole: 2 1/8″
Bottom Hole: 2 1/8″
This replacement spa filter model is found in Coast Spas and is made from quality Reemay brand filter fabric.   This very long filter type is found on some Coast Spas and on spas of other hot tub manufacturers that use Waterway filter canisters.